The Maids 22-Step Cleaning Process
Our house cleaning process was created to provide you and your family with the cleanest, healthiest home possible. With our proprietary 22-Step Cleaning Process, we've got your back –  your home can look, feel, and smell new again and you can breathe a sigh of relief when you walk into your freshly cleaned home. You can be confident about our quality and thoroughness visit after visit and feel The Maids difference with our 22-Step Cleaning Process.
Kitchen Cleaning Services
Focus on feeding your family their favorite meals, not about inevitable spills and stains. The Maids is here to help so you can get back to spending quality time together.
From counter and range surfaces to cabinet handles and backsplashes, you practically need a kitchen cleaning checklist (spoiler alert, we have one) to make sure you don't miss anything. If you've ever thought the only way to keep your kitchen clean and fresh is to stand guard 24/7, we have a better idea: call The Maids.
Part of our proprietary 22-Step Cleaning Process is dedicated to the most important kitchen areas, including cleaning the following:
Sink and hardware
Appliance exteriors
Inside microwave
Range top
Cabinet doors
Counters
Floors
Window over the kitchen sink
We'll even load the dishwasher!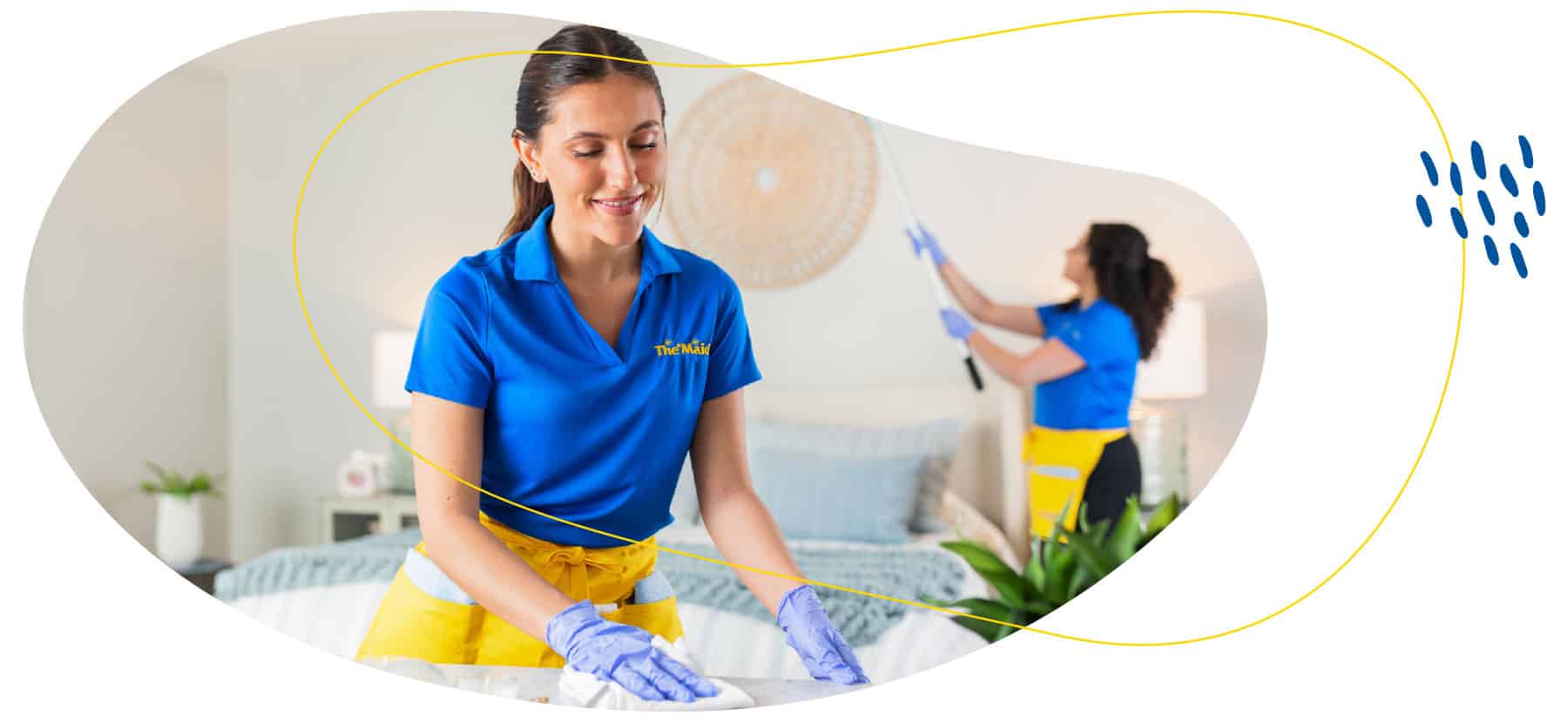 Bathroom Cleaning Services
Your bathroom puts up with a lot, so it's easy for buildup, mold, and mildew to get out of hand. And then there are the germs. The Maids not only cleans your bathroom; we disinfect it and make it shine. Here's our three-part bathroom healthy cleaning service:
Clean and disinfect sinks, hardware, counters, and even switch plates
Clean and disinfect the toilet, tub, and shower
Clean the floor and change out the towels
General Room Cleaning Services
Of course the kitchen and bathrooms get the cleaning spotlight, but we've got the rest of your home covered, too! You didn't think we were going to forget about your bedrooms, office, living room, or hallways, did you? Here are the rest of the services that get your home sparkling from top to bottom:
Perform a quick pickup and straighten
Remove cobwebs
Dust and vacuum furniture
Vacuum floors, rugs, and carpet
Dust sills, ledges, and wall hangings
Vacuum stairs
Make beds
Empty trash
Clean entry window and one set of patio doors
Cleaning for Health
From multi-level houses to apartments and condos, we provide residential cleaning services that fit your schedule and your budget. We don't consider your house completely clean until it's been through our 22-Step Cleaning Process. The teams from The Maids utilize a HEPA filtration vacuum system, which can capture up to 99 percent of bacteria, pollen, allergens, pet dander, and other pollutants that can slip into your house and make life difficult for those with allergies and asthma. Each visit improves the air quality of your home, ensuring you can breathe deeper and more comfortably.