As a company that tries to tidy messes as often as possible, the idea of a no-carve pumpkin is pretty appealing. But can they still be festive? We found seven that loudly answered "YES" to that question, and we hope they inspire you to say the same.
1. Find the Great Pumpkin. Or Lots of Great Pumpkins.
Why carve one pumpkin when you can set out layers and layers of them? This beautiful fall display makes the most of several pumpkin varieties while layering in metal Jack-o-lanterns. Want to extend the effect? Layer in battery operated tea lights or white string lights throughout the arrangement to create a completely different look at night.
2. Say Boo.
Add this to the "Why didn't we think of this earlier?" column. Paint pumpkins white, stack them, and add some "Scream" below their stems and voila! Ghosts. These two stand as sentries at the front door, ushering in visitors and trick-or-treaters alike. And you just know there are goodies inside.
3. Add Some Shine To Your Squash.
This fall mantle display is a great take on personalized produce. A can of metallic spray paint, some well-placed decorative tacks, and layered pedestals create a fun play on mono-chromatic glam. Change up the look by adding a pop of color as you see fit. Black pumpkins, chartreuse candlesticks, burnt orange gems would all work well in this setting.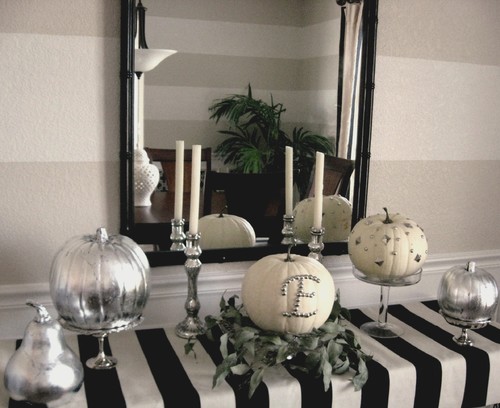 4. Get Halloween Down To The Letter.
Another so-simple twist on Halloween decor. Paint your pumpkins white or look for the white varieties in an assortment of shapes and say the first thing that comes to mind when ghosts are up to no good. Another note: the black and white theme isn't used enough in Halloween as far as we're concerned. It's both bold, elegant, and playful—and it works almost anywhere.
5. Pumpkins Make a Stand.
In this take on Halloween decor, pumpkins make a stand. Literally. To create this awesome focal point, find a large, bright orange pumpkin and three or four well-shaped branches. Spray paint the branches a glossy black. Using a cordless drill, create holes in the top of your pumpkin ever-so-slightly smaller than the stick itself (you can use the same bit for all, just start small and swivel it a bit as needed while you are drilling to make the hole size larger as needed). Stick the sticks into the pumpkin, and hang construction paper or felt bats for added effect. White string lights are also a fun addition.
6. Weave Some Magic. And a Spiderweb.
Arguably the easiest no-carve pumpkin decor ever, this tangled web of awesome is brought to you by some white yarn, a couple of plastic spiders, and two pumpkins which have no idea how adorable they look. A great project for kids and grandkids alike, these pumpkins are best displayed indoors, or outdoors during sunny weather.
(Courtesy of Budget Wise Home as found on parenting.com)
7. Bring On The Candy.
Like most fruits and vegetables, some candy is best enjoyed when it's in season. Love it or hate it, candy corn makes its debut in the fall. These pumpkins are the perfect way to offer calorie-free enjoyment for those who crave nostalgia with their pumpkin lattes. Make no mistake about it; these pumpkins are pretty sweet.
(Courtesy of Community Table)
Are you ready to try these ideas out? Share your finished creations with us in the comments or on our Facebook wall!