Turn your Thanksgiving centerpiece into a Thanksgiving masterpiece your guests will love so much it won't matter if your turkey is dry. (It always worked for my Aunt Maggie, who also baked an equally memorable apple pie).
Birds of a Feather
Well, it IS turkey day… This striking centerpiece not only celebrates Thanksgiving in the traditional sense, but it is fairly simple to replicate. We love it because it's complete design is easy to move out of the way to make way for the real bird, yet striking enough to look beautiful no matter where it is placed. Add some additional texture with different kinds of feathers or tuck in some battery-operated fairy lights for a warm glow.
Low key
If you are looking for a centerpiece that stays put, aim for something with a low profile that guests won't need to talk around. This monochromatic display of white candles and white pumpkins is near perfection, especially when the pops of orange bittersweet seeds harmonize with the flames of the candles. Shorten this Thanksgiving centerpiece as needed to make room for the real stars of the show—the side dishes!
Wood Takes It To Another Level
Layering comes naturally this time of year, and your Thanksgiving centerpiece should be no different. Look how this designer added height to her serving area with a reclaimed wood plank. Burlap, jute ribbon and pinecones add a sophisticated finish, and those green leaves bring the whole thing to life. Added bonus, with an elevated center surface, serving family style just got easier.
Gilded and Green
Another example of how a little green goes a gorgeous way, this holiday centerpiece not only is a showstopper for Thanksgiving, but it also transitions seamlessly into its surrounding holidays. The great thing about this design, which starts with a bare wood table, is in its versatility. You can start with a plain table or cover it in brown packaging paper and you can layer in runners of tweed, wool or burlap. You can also trade in the bursts of green sedum with artichokes, berries or apples. The possibilities are endless (and beautiful!).
Let your style bloom.
You really can't go wrong with flowers. Ever. And in this case, this holiday centerpiece does everything right: small footprint, big color and amazing impact. You can see it would be just as at home on the buffet near the table as it is in the center of the festivities, which ensures your hard work is still in full view. To get this effect, in any climate, mix artificial flowers (they've come such a long way!) in with real ones.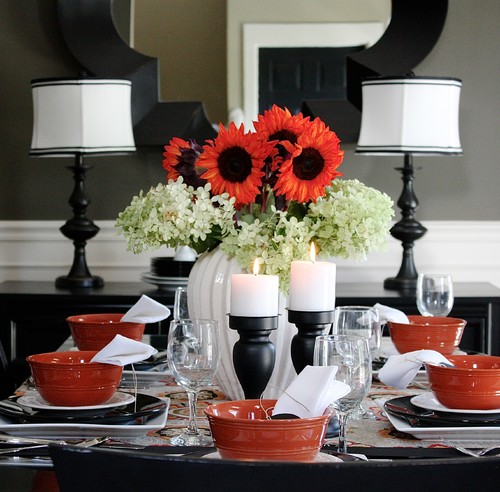 How will you set the scene this Thanksgiving?