There's a reason why the environmental preservation movement latched onto "going green" with such fervor. The color green, with its spectrum of hues between yellow and blue, flows from warm to cool with a natural energy that is often aligned with renewal, harmony, and nature. Quite simply, green is the color of life.
Let bursts of green home decor center your calm and restore your sense of balance in every room. Add color and improve air quality with well-placed houseplants, increase energy with cohesive green accents, and introduce calm with complementary colors and painted walls. We found several rooms that did exactly that.
Own moss like a boss. 
Warm, pale olive walls couple with cool purple to create a room that instantly calms. Soaring windows draw the eye up while color block curtains ground the room in a soft, draped moss. It's always a good sign when plants big and small feel right at home in a room, an easy feat with such gorgeous natural light. Adding a contrasting rug in the living room would allow the plush seating and green living room accessories to get in on the same conversation.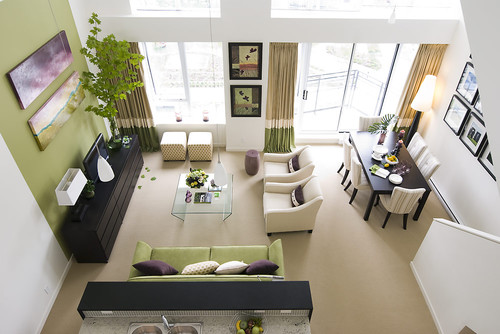 Get enamored with emerald.
Decorating with green and gold is one way to invite a power couple into your living room, as seen here in warm and luxurious splendor. A gorgeous sun-shaped mirror brings out the rich emerald that plays about the room in various patterns and textures. In fact, the consistent shade of green is what pulls the entire room together, joining peacefully what would otherwise be at odds. The end result is a quiet energy that both calms and invigorates. Can you feel it?
Be virescently vogue.
Virescent, a lovely word for the term "greenish," is exactly how we would describe this bedroom, which features turquoise as a wonderful color companion to the green home decor. The palette of this bedroom would scream "RELAX!" if it wasn't already delightfully doing so. We love how the room plays upon green's restorative features and how it shows why green makes such a wonderful neutral; that bouquet of flowers could easily be orange, yellow, purple or even red (although that pink is pretty perfect).
Spring for a splash of citron.
It wouldn't be hard to wake up in this spacious master bathroom, not only for its huge panels of natural light, but also for the energy that glows from its citron walls. Here, decorating with green is as easy as growing it; wide-leafed plants ground the room with gentle, but firm, authority. Without them, the room would be too loud; with them, the room buzzes with perky morning energy, almost negating the need for coffee. Almost.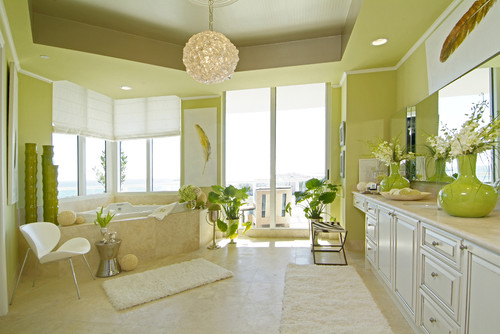 Add some avocado.
The avocado appliances of the 1970's gave green a bad name in kitchens, but time has been kind to the mistreated hue. Here it's given hints of yellow, and it is happier for it. This green kitchen beams with excitement and optimism, as if constantly looking for good company and always finding it. The blonde wood cabinetry helps channel and contain the green backsplash, guiding your eye and helping you find your seat on the comfy bench tucked into the dining room. This kitchen is so glad you're here.
Decorating with green continues to be a great way to revive and restore home interior design. As one of nature's most compatible and forgiving colors, green is a neutral with enough personality to be at home in almost every house and color scheme.
How much green does your home currently have?