Changing out container gardens at the end of the season marks a bit of a changing of the guard in a home's landscape with begonias transitioning to mums, dahlias to cabbages, and bare spots to ripening pumpkins. The Maids has a few tips to keep your fall container garden flourishing and flowering throughout the next season, when it's just cool enough to be outside to enjoy it.
Harness the colors of the season.
Or, in this case, let them go completely wild. This fall container garden nearly glows with autumn abundance, and would serve as an excellent sentry for front or back doors in partial shade. To match this container garden, find plants with complementary foliage hues; this container garden works because the colors create an almost ombre effect as it moves from chartreuse creeping jenny to the dark green leaves of the orange mums to streaks of yellow, orange and red in the base plant.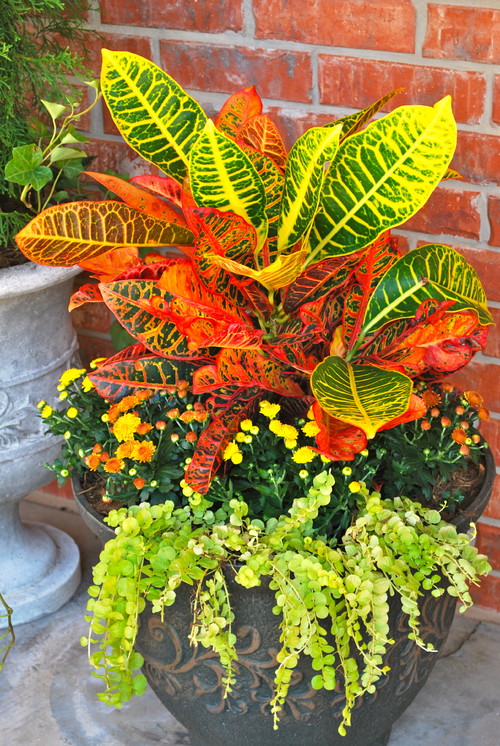 Or harness the colors you like in seasonal plants.
The rule for container gardens is as you may have imagined: there are no rules. If you love purple, there's nothing saying you can't work it into your fall container garden as long as you pay attention to growing seasons, light requirements, and bloom times. We happen to love the way these calibrachoa, pansies, mums, and mini cabbages play together, and can't wait to see what happens when the blue sedge grass comes into its own a little more. The best tip we can give you when assembling your potted perfection is to take into account how your plants will grow; mums will round out, calibrachoa will traipse below, and grasses will reach skyward, just as they do below to beautiful ends.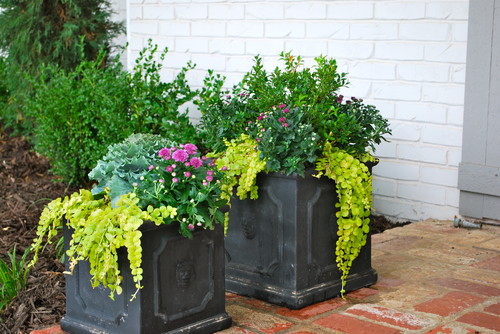 Make fall container gardens seasonally timeless.
If you don't want to invest in annual plants that must be changed out season after season, consider this idea: a striking mix of fragrant and neutral greens that serve as a backdrop for whatever you want to tuck inside. In this case the oversized magnolia bloom and white and green floral picks are the only faux element in an otherwise lush, very natural arrangement. For fall, you could easily replace the flowers with orange or white pumpkins, slipping in corn stalks or dried grasses for ornamental appeal. This approach works well in any season, particularly if the base plants in the container are either evergreen (laurels) or ornamentally striking during their dormant season (dogwood bushes).

These three container gardens make quite the welcome party for the cool season. What will you be planting this year?